What's Inside
Hair La Vie Serum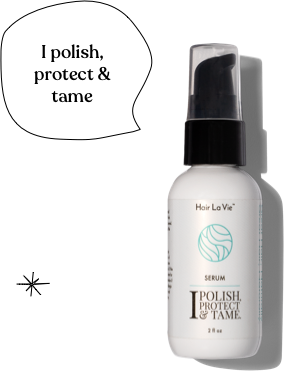 Hair La Vie Serum is your perfect on-the-go frizz-taming hair therapy. Replace heavy silicone-based styling products with a light oil that leaves your hair touchably soft.
7 essential oils & vitamins
Great replacement for harsh styling products
No crunchy after feel

---
Hair La Vie Shampoo: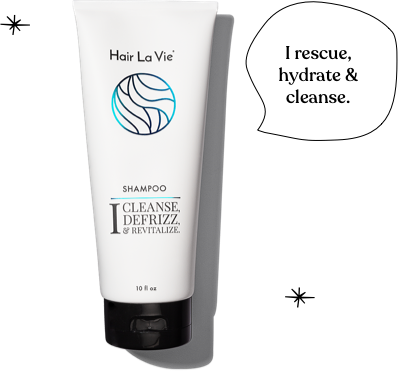 Hair La Vie Shampoo is a gentle salon cleanser AND a liquid hair vitamin in one that can be applied directly to your scalp for fast absorption.

Gentle cleansers remove buildup without stripping hair
Has natural proteins/amino acids for strength
No SLS, dyes or parabens and color safe
---
Restore Conditioner: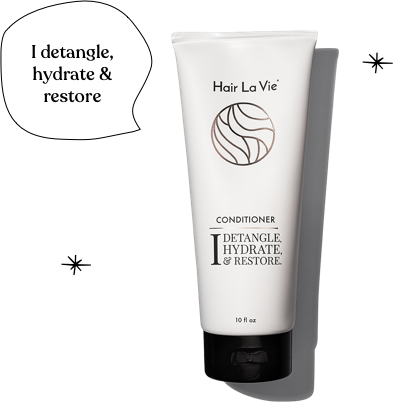 Hair La Vie Conditioner uses 21 different essential oils, vitamins and extracts to hydrate, detangle and restore your hair, giving it that healthy, glowing look.

21 ingredient blend (including 11 essential oils)
Uses gentle detangling agents
No SLS, dyes or parabens and color safe
---
Hair La Vie Mask | 8 oz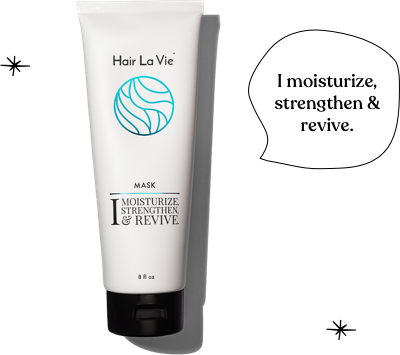 Hair La Vie Mask offers a deep salon conditioning at home, that will be your main line of defense against dry, lifeless hair.
11 vitamins & essential oils
Aids with frizz, boosts curls, softens'
No parabens, phthalates, dyes or alcohol
---

Money Back Guarantee
Every Hair La Vie product comes with an unconditional 90-day 100% money-back guarantee.
Feel confident and secure buying from Hair La Vie. If you're not completely satisfied with your results, we will refund your order for up to 90 Days, no questions asked. You read that right, you have a full three months to return under our risk-free offer, and that goes for products that are opened or unopened, used or unused. Only one refund per household per year. For more details, please see our refund policy.
See The Results
Emily
"I Can Be The Best."
Featured Products

Name: Emily

Hair Type: 2A (Slightly wavy near the ends, with natural shine)

Nature: Tends to get frizzy easily, and split ends are an issue.

Issues: hair loss, dry scalp

Why are you #TeamLaVie? You feel the softness and you feel all that and when I dried my hair afterwards, it was like, wow. It wasn't weighted down, because when you have damaged hair you get all these products and they're kind of weighting you down.
Reviews
Write a Review
So happy!

I love Hair LA Vie! My hair has stopped falling out! And, my head is no longer flaking or itching. No other shampoo has done these things for me in all my 68 years. I am very happy with this product.

Works well

This product has been wonderful for me. It really helps my hair

I love Hair La Vie

I love these products (use them all) because my scalp is nourished, my hair is softer and fuller and I KNOW that the ingredients going into my system are good for me.

BIG results!!!

I have never in my life had silky hair, til now. And NO more itchy scalp.
Apparently I was allergic to all of those other chemicals.

And my hair doesn't feel greasy after one day, even as it used to be dry as straw.
Now it is silky down to the tips, but not greasy at the scalp.
AND, it has grown two inches in a year! It is past the middle of my back!
Not in decades has it grown so long and remained thick and healthy!
I have very fine hair and it used to be getting thin, too.
But now it is a decent thickness, still fine, and it is growing and not splitting off!

Hair La Vie shampoo, conditioner, and vitamin supplements are the only changes I've made!
I want never to be without them!!

It works well

Hair growth is much better than a year ago. At 75 with inherited fine hair, I don't expect the great mane I had in my 40s but Hair La Vie has restored my confidence. My hair stylist thought I was heading toward baldom last year but her assessment has changed!

3 days use

Love this! I can see and feel the difference already!

I think it works

This product (clean collection) works. I see a difference. I had my hair colored and it broke off so bad, I had to cut very short. Not what I wanted at all. Hair La Vie made a difference for me. Awesome product!!

Fabulous product

I highly recommend this product. My hair was breaking like crazy and my scalp was itchy before using this product. After using it my hair was beautiful and strong again! Love it!

Awesome

This is one awesome hair restorer. My scalp has taken its sweet time to recover from all the radiation I had 6 years ago. And in only 3 months of using this my widows peak has already grown back! + it smells fantastic

Hair la vie

I just started taking this vitamins for a week . I can't wait to see my result.i my so excited from reading the reviews, I bought a four month supply.wish me lucks.ya.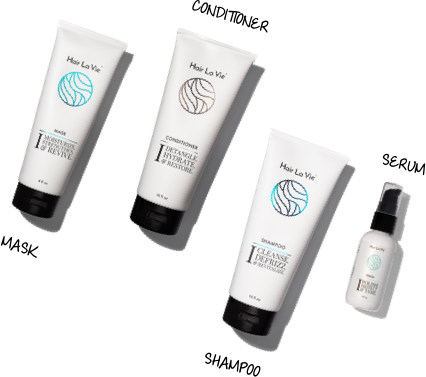 Your journey to a healthy hair transformation begins
Add To Cart