Why Hair La Vie
Helps support healthy follicles and promotes normal hair growth from within*

Exclusive blend of 20 revitalizing ingredients and botanicals*

5,000 mcg of biotin for healthy hair, skin, and nails*

No unnecessary fillers, such as magnesium stearate or titanium dioxide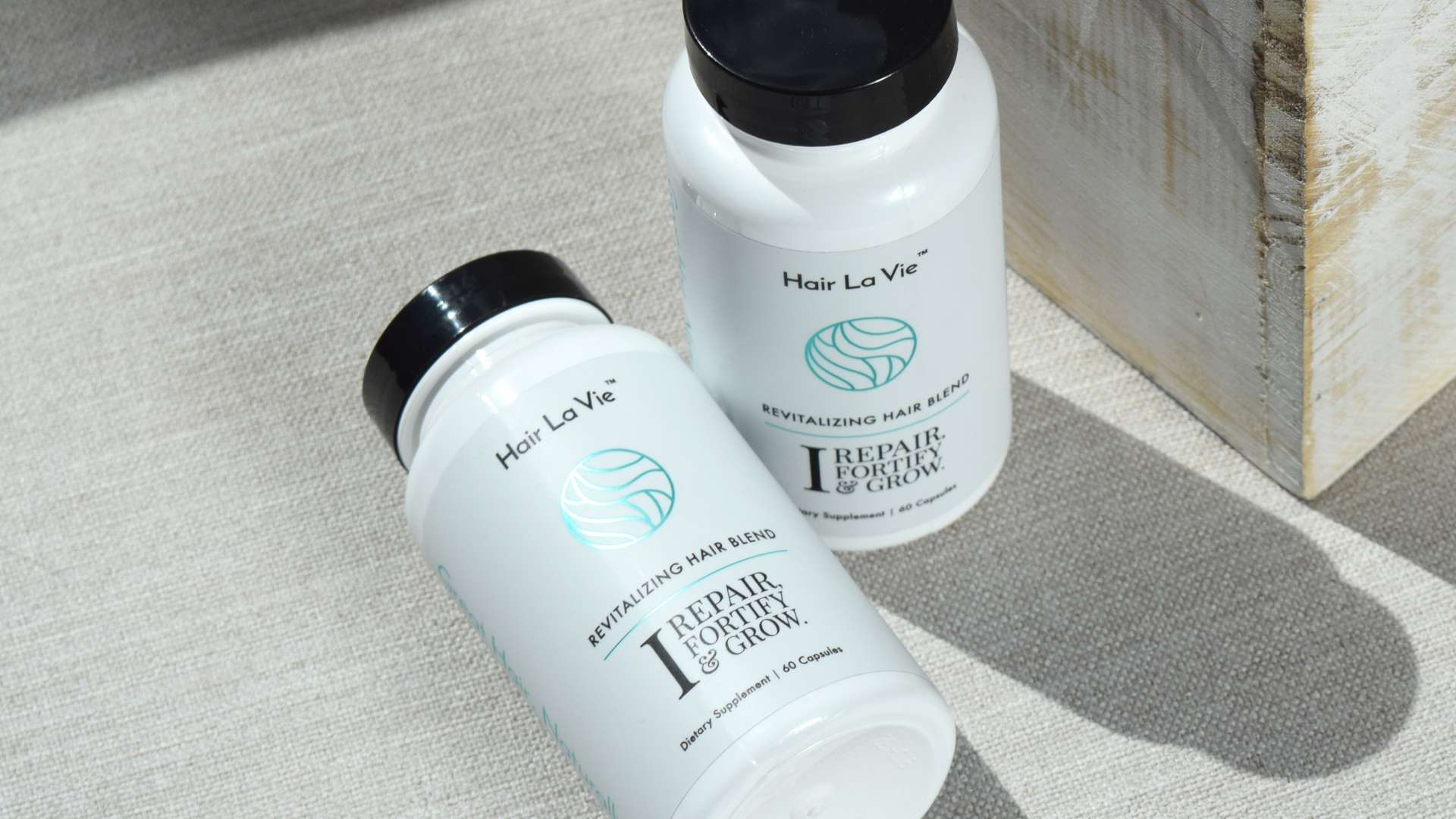 How It Works
Whole-body wellness is integral in creating the perfect environment to revitalize your hair.* With immunity-supporting properties and additional nutrients, Revitalizing Hair Blend works from the inside out, promoting normal, healthy hair growth from within.*
How To Use
Take one capsule with breakfast
One with dinner
You can also take them together
The Journey
Month 1

Revitalizing nutrients begin to help support a healthy scalp environment.*

Month 2

Roots and follicles are rejuvenated with the help of essential vitamins, minerals, and nutrients.*

Month 3

Hair appears healthier and stronger, with gorgeous shine and incredible volume.*

Month 4

Celebrate the stunning results! Continue your healthy hair journey for endless good hair days.*
Ingredients
Saw Palmetto


This exceptionally potent berry extract is used to help promote healthy DHT levels, a naturally occurring hormone in the body that contributes to the normal thinning of hair associated with age by shrinking hair follicles.*

Organic Kelp


A natural source of iodine, which helps aid proper follicle activity.*

Horsetail Herb


Contains naturally-occurring silica, a mineral shown to support normal hair growth.*

Hydrolyzed Collagen


Sourced from the ocean, this protein is responsible for the strength and elasticity of hair and skin and plays a significant role in hair revitalization.* Although collagen is found naturally in the human body, our own production decreases as we age.*

Bamboo Leaf & Stem


Nature's richest source of Silica, a mineral that plays a role in hair luster and elasticity while helping to promote strong hair from root to tip.*

Borage Oil


Includes an omega-6 essential fatty acid that helps reduce common follicular issues o associated with typical damage and hair loss.*

Zinc


An essential mineral that gives life to your locks and promotes the immune system to fight off environmental threats.* It also helps support hormone levels, which is one of the reasons why it's so effective in helping to prevent everyday hair loss.*

Vitamin E


Clinically shown to support normal, healthy hair growth, combat common oxidative stress and promote the immune system to help you achieve whole-body wellness.*

Iron


Iron is a mineral that promotes thick and beautiful strands from the root. It's also crucial for total-body nutrition, assisting immune cells to mature and proliferate throughout the body.*
See The Results
Peyton
"I am energized."
Nadine
"I feel cleansed. "
Darcei
"I am saying goodbye to breakage"
Ali
"I am progressing."
Emily
"I Can Be The Best."
Patti
"I am Superwoman. "
Juliet
"I am Wonder Woman."
Danita
"I am taking back my hair. "
Fernanyi
"I am embracing my natural curls. "
Alisha
"I am enjoying the journey."
Gloria Ann
"I am defined."
Roscii
"I have fallen in love. "
xoBeautyJunkie
"I am doubling my growth. "
Tiffany
"I am boosting my hair."
Netta Monroe
"I am dedicated to cleansing"
Mallory
"I had a growth spurt."
Reviews
Write a Review
I was looking for a good vitamin…I was desperately looking for something to save my hair. We'll after about 3 weeks it stopped falling out when I brushed it. I'm 100% happy with this product..thank you Hair La Vie.

Alittle stinky , but not bad.Otherwise easy to swallow.

I've been taking for five weeks and am seeing noticeable results.

Hair Vitamins,helps with maintenance in healthy hair

It works great for me. My hair looks healthy and has gotten longer and thicker. I love Hair La Vie.

I just ordered my 2nd month supply and I could not be more pleased. My hair is again nice and thick and no bare spots!

Will give this product another 6 months.

Altogether different now with Hair La Vie!

I have always had great results. I use it today for overall health. I'm 59 years old with healthy hair.

I found it on Amazon and I am very pleased to say that I believe it really does help my hair. I have older hair and color treated.
Frequently Asked Questions
How does Hair La Vie work? What makes it such a unique solution?

Hair La Vie Revitalizing Hair Blend Vitamins combines 20 active ingredients into a formula that cultivates beautiful, lustrous hair, with 20 naturally sourced extracts, essential antioxidants, and vitamins like biotin, vitamin A, B1, B2, B3, and B6.*


We start at the root. Organic kelp powder and saw palmetto berry powder contribute to nourishing and revitalizing hair.* Revitalized hair encourages a clean, healthy scalp and helps maintain the existing length and strength of hair.*


Next, we take care of your scalp with a healthy serving of biotin, which promotes existing hair growth, pantothenic acid (calcium D-pantothenate,) and flaxseed oil powder.* These have each been carefully selected to promote the healthy metabolism of oils on the scalp, maintain moisture on the skin, and keep the scalp appearing clear.*

Finally, we added multiple antioxidants with other naturally-sourced ingredients that work in various ways to promote beautiful, vibrant hair that feels strong, healthy, and thick.*

We built this formula with no unnecessary fillers, binders, artificial colors, or flavors. It is surrounded by a fast-absorbing veggie capsule.*



When will I begin to notice a difference?

With all supplements, it takes the body a bit of time to absorb and distribute the nutrients.* Typically, a consumer may see visible results within three to four weeks, perhaps longer.* In general, we recommend that you take Hair La Vie for at least three to six months, depending on your personal hair growth needs and goals.*

What happens if I stop taking Hair La Vie after my hair feels healthy, strong, and supported?

It is possible for your hair to maintain the feeling and appearance of these elements, even if you stop the use of Hair La Vie.* The key to continuous results is by maintaining a healthy hair routine.* Try to avoid any products that are full of chemicals. Only use naturally derived products paired with a healthy and balanced diet.*

You have to put the work in to take total care of your scalp and hair. Continuing the naturally-sourced, drug-free Hair La Vie system even when your hair looks and feels healthy and vibrant boosts the chances that it will stay that way.*

Is it okay if I missed a capsule because I forgot to take one?

If you only missed one day, just continue the next day as usual. Your existing hair growth will not necessarily be affected. Try to avoid missing servings, especially during the first 90 days of use.

How do I know Hair La Vie is a safe product?

Hair La Vie uses high-quality ingredients that are g.r.a.s. (generally recognized as safe) status. This product does not contain unnecessary fillers, harsh chemicals, or artificial flavorings or colors, such as caramel or maltodextrin.

We recommend consulting with a physician before taking any dietary supplement, including Hair La Vie. Hair La Vie should not be used by pregnant or nursing women. If you have a medical condition, are on medication, or are concerned about complications, you should consult with your physician before using Hair La Vie supplements.

Will hair start to grow on other places of my body that I don't want?

Hair will not begin to grow on unwanted or random parts of your body. The hair cycle for the rest of your body is much slower than the hair cycle for your scalp. Hair La Vie is designed to help the natural growth of hair directly on your scalp and does not contain any hormones.*