Why Hair La Vie
100% organic, vegan, cold-pressed virgin argan oil transforms hair, skin, and nails with essential and rejuvenating nutrients

Supports scalp moisturization while also nourishing and softening dry, rough skin

Promotes shine, fights frizz, and gives hair a lustrous sheen

No frizz or drying-causing alcohols or silicones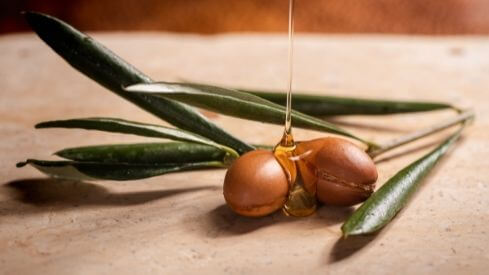 How it works
Hair La Vie's Organic Argan Oil is 100% pure — exactly what you need to promote the revitalization of your hair's natural shine and bounce and protect it from life's harsh daily elements.
How to use
Hair

Place a dime-sized
amount on your fingers
then smooth onto
the ends of your hair.
Skin

Apply directly to dry
or dehydrated skin
throughout the day.
Nails

Rub into nail beds
and cuticles for a soft,
rejuvenated touch.
Makeup Remover

Easily and gently
removes makeup.
Ingredients
Argan Oil


Promotes shine, fights frizz, and gives hair a lustrous sheen. High in vitamin E, it promotes scalp moisturization and the growth of strong, healthy hair.
Reviews
Write a Review
Cant Keep My Husband's Hands Off of It

My husband steals mine all the time so he can use it on his beard. I had to hide in our shower to catch him in the act hahaha but i caught him red handed and really scared him good Now, I just hide the oil from him lol.

Much better

Since I've started Hair La Vie I have noticed a huge difference with the texture the thickness softness volume and length of my hair and I've only been using it for two months thank you Hair La Vie I love you


Very Hydrating

Very good i am loving it

Makes My Hair Unbelievably Shiny

I just started using Moroccan Oil a week ago and my hair has been unbelievably shiny these past days.

Love It

I am a huge fan of this argan oil, i cannot say enough good thing about this product. The only thing i can do is to recommend it to everyone i know!

Fiercest Hair Ever.

When you're vogueing and get to flip your real hair. Move over chica's, JoJo the Queen is front and center. Love this oil and vitamin combo. Fiercest hair ever.

Bye Bye Frizz

A little goes a long way! This stuff totally reduces my frizzy hair. sometimes it feels a little too oily but it is argan oil after all.

I Use It Everyday

Love this product it is great for dry skin. I add it to my face mask and even my hair mask for extra moisture. I use it everyday. I am totally obsessed with La Muse's argan oil it feels like I need to use less of this brand than the other I've tried

<3

Moroccan oil has done wonders for our hair!!! Getting this serum asap!!

5+

Good