Why Hair La Vie
Helps to maintain healthy hair growth.

4 patented, plant-based ingredients with clinical studies

Helps to maintain healthy growth rate, strength, and root attachment.

Visibly improves hair density, while reducing the appearance of oil for a perfectly balanced environment.
Ingredients
Ecklonia cava


Common to the oceans off of Japan and Korea, studies link this edible marine alga with human hair growth and unique antioxidant protection against damage.

Capauxein™ G2


Shown to visibly improve hair density and growth rate, reduce the look of excess oil and grease, improve scalp hydration, and promote a stronger scalp barrier for stronger, more youthful hair.

CAPIXYL™


A complex made with Red Clover extract, clinically shown to act on every parameter that influences healthy hair at the scalp, root, and strand level.

fiberHance™ BM


A naturally derived compound that restores and repairs keratin bonds deep within the hair strand to strengthen internal hair structure up to 300%* for visibly improved hair. (vs. untreated hair*)

Procataline™ Biofunctional


An extract found in peas, designed to help hair combat the effects of environmental stress and aid in the strengthening of hair by combating everyday oxidative stress.

AquaCat™


Made from the Guar gum plant and allows for effortless detangling and conditions for hair that feels smooth and silky.
See Frequently Asked Questions for full list of ingredients.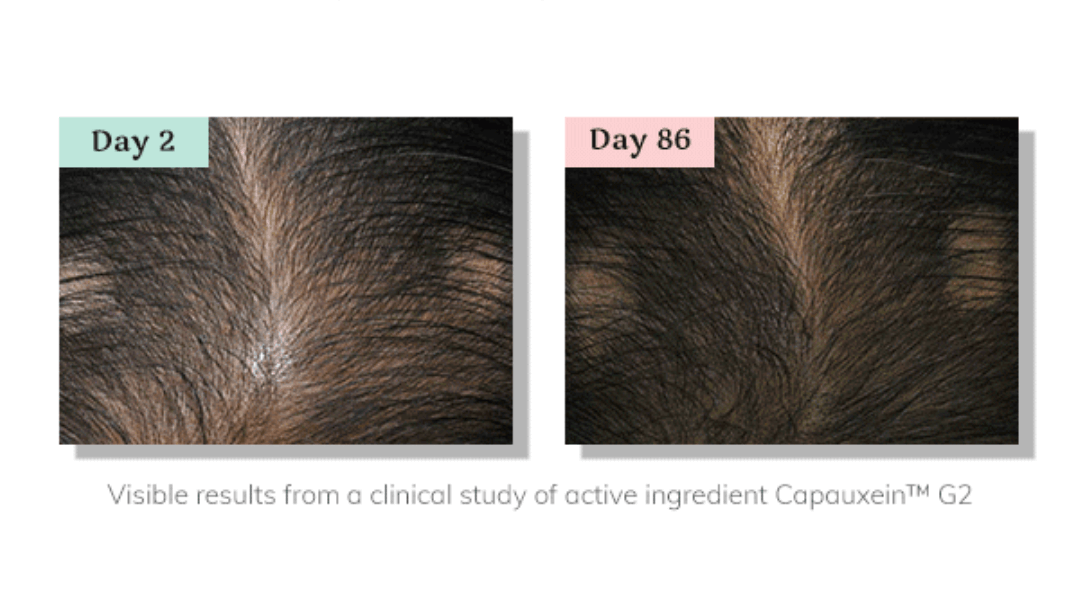 How it works
Hair La Vie's Renewing Growth Treatment delivers concentrated, multi-level support for stronger, denser-looking hair—with supported growth and less visible oiliness in as little as one month.
Instantly, hair is left beautifully volumized, better hydrated, and resistant to tangles. Mist on this all-natural daily treatment for a healthy serving of plant-based, clinically studied ingredients, optimized to internally maintain healthy hair.
How to use
Spray onto cleansed scalp
Comb through hair & style as usual
Use daily for optimal hair and scalp health
The Journey
Instantly

Hair is rejuvenated with gorgeous volume and shine

Month 1

Root density is visibly improved, hair appears less oily

Month 2

Strands are internally strengthened

Month 3 and beyond

Growth rate is optimized, hair appears fuller, healthier, and more youthful.
Reviews
Frequently Asked Questions
What are the full ingredients of Renewing Scalp Spray?

Water, SD Alcohol 40B, Hydroxypropyl Gluconamide, Hydroxypropyl Ammonium Gluconate, Polyimide-1, Sodium Polyitaconate, Cetyl Betaine, Polyquaternium-11, Glycolipids, Propanediol (derived from corn), Ecklonia Cava Extract, Pisum Sativum (Pea) Extract, Panthenol (Vitamin B5), Hydrolyzed Keratin, Hydrolyzed Soy, Hydrolyzed Silk, Guar Hydroxypropyltrimonium Chloride, Glycerin, Hydrolyzed Corn Protein, Adenosine, Magnesium Ascorbyl Phosphate, Carnitine, Butylene Glycol, Dextran, Acetyl Tetrapeptide-3, Trifolium Pratense (Red Clover) Flower Extract, Polyglyceryl-4 Laurate/Sebacate, Polyglyceryl-6 Caprylate/Caprate, Hair La Vie Fragrance Blend, Pentylene Glycol (natural), Phenethyl Alcohol, Benzoic Acid, Sorbic Acid, Citric Acid

How does Renewing Growth Treatment act on all factors that influence hair loss?

Renewing Growth Treatment uses all-natural, patented compounds to help the body optimally defend against all factors influencing hair health, such as growth rate, hair strength, and root attachment.

Ecklonia cava - A marine algae that helps protect hair against environmental damage.

Capauxein™ G2 - Strengthens the internal bonds within the hair strand.

fiberHance™ BM - A marine algae that helps protect hair against environmental damage.

Why does my hair need antioxidant protection?

Your hair and scalp are exposed daily to environmental stresses such as UV exposure, pollution, and mechanical damage from hair styling. The antioxidant protection of the Renewing Growth Treatment gives your hair a much needed boost of natural protection.

What makes my scalp tingle when using the product?

The essential oils, specifically the peppermint, lemon and tea tree essential oils, all contribute to that tingling sensation, which aids in increased blood flow to your hair follicles.

How does dry scalp contribute to unhealthy hair?

A dry scalp can lead to itchiness and flaking, and can also contribute to problems. Renewing Growth Treatment hydrates the scalp, which may help improve hair retention and regeneration.

What happens if my hair has too much/not enough oil?

Sebum secretion helps to keep hair moisturized and protects against breakage caused by the hair shaft becoming dry and brittle, but excessive sebum production leads to an oily scalp and can affect the hair growth cycle. Renewing Growth Treatment will help balance oil production, leaving your hair in its optimal state of health.