Ingredients
What's Inside
Clinical Formula Hair Vitamins: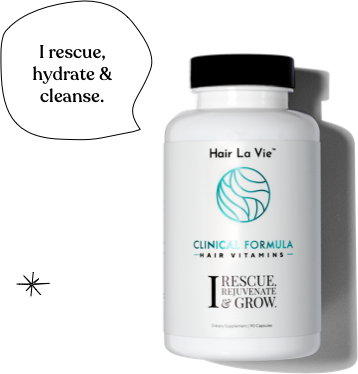 Clinical Formula Hair Vitamins dramatically transform the health and appearance of hair using the power of total body nutrition.

Proprietary Blend - Shown to promote denser, fuller-looking hair.
EvnolMax - Shown in two clinical studies to support healthy hair growth.Works at root, strand, and scalp levels
USPlus Saw Palmetto - Shown to help prevent the proliferation of DHT, a naturally occurring hormone in the body that contributes to thinning hair by shrinking hair follicles.

---
Hair La Vie Shampoo: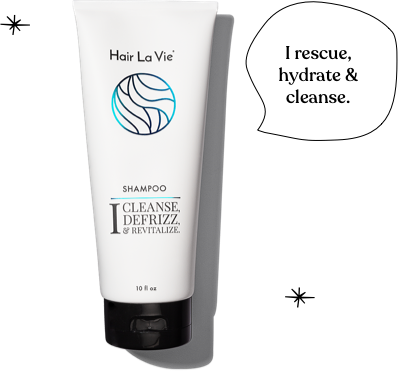 Hair La Vie Shampoois a gentle salon cleanser AND a liquid hair vitamin in one that can be applied directly to your scalp for fast absorption.

Cleanses while promoting thicker, fuller-looking hair
Keratin, rosemary, citrus, & saw palmetto
Low-lather formula combats frizz & damage
No SLS, parabens, or dyes
---
Restore Conditioner: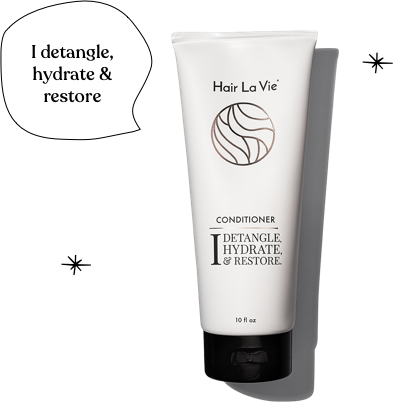 Hair La Vie Conditioner uses 21 different essential oils, vitamins and extracts to hydrate, detangle and restore your hair, giving it that healthy, glowing look.

21 ingredient blend (including 11 essential oils)
Uses gentle detangling agents Promotes thicker, fuller-looking hair growth
No SLS, dyes or parabens and color safe
---
Hair La Vie Mask | 8 oz: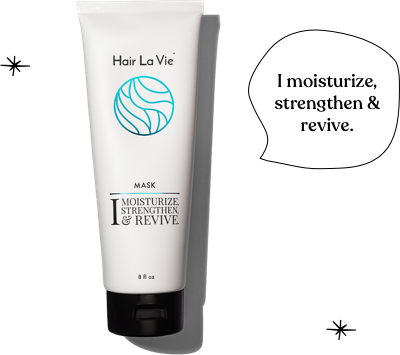 Hair La Vie Mask offers a deep salon conditioning at home, that will be your main line of defense against dry, lifeless hair.
11 vitamins & essential oils
Aids with frizz, boosts curls, softens
No parabens, phthalates, dyes or alcohol
---
Hair La Vie Serum: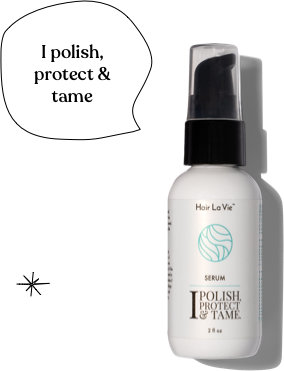 Hair La Vie Serum is your perfect on-the-go frizz-taming hair therapy. Replace heavy silicone-based styling products with a light oil that leaves your hair touchably soft.
7 essential oils & vitamins
Great replacement for harsh styling products
No crunchy after feel
---

Money Back Guarantee
Every Hair La Vie product comes with an unconditional 90-day 100% money-back guarantee.
Feel confident and secure buying from Hair La Vie. If you're not completely satisfied with your results, we will refund your order for up to 90 Days, no questions asked. You read that right, you have a full three months to return under our risk-free offer, and that goes for products that are opened or unopened, used or unused. Only one refund per household per year. For more details, please see our refund policy.
Reviews
Frequently Asked Questions
Why does my hair need vitamins? What does the Clinical Formula do?

Hair La Vie Clinical Formula is a 100% natural supplement that dramatically transforms the health and appearance of hair using the power of total body nutrition. Each hair-enhancing ingredient was chosen for its scientifically researched benefits at the scalp, root, and strand levels to promote healthy hair growth from within. Clinical Formula Hair Vitamins work to help you naturally achieve the gorgeous volume, incredible shine, and renewed strength that your hair deserves.

How do I use the shampoo and conditioner?

Use just like any other shampoo and conditioner pair.


Make sure to massage the shampoo directly into your scalp down to the tips of your hair. Massage the conditioner onto the tips of your hair first then up to the scalp.

.

Are your products tested on animals?

Our products are cruelty-free and never tested on animals.

How much serum should I apply?

Start with three pumps, rub on hands. Next, finger-comb the product into your hair. Add one to two pumps at a time until your desired level of hydration is achieved.

Can I apply the masque to dry hair?

Yes! This product was formulated to work best on hair that is wet. However, you can still use our Masque as a pre-conditioning treatment.

Why is the Hair La Vie Masque a brownish color?

At Hair La Vie, we do not believe in adding any ingredient to our products unless it specifically helps make the product more effective. This results in a natural color for each product.
To whiten it, we would need to add a synthetic chemical like titanium dioxide to the formula. Titanium dioxide has never been fully tested and studies show it could be a carcinogen. We would never use something potentially harmful in any of our products.