What's Inside
Revitalizing Blend | How to Use: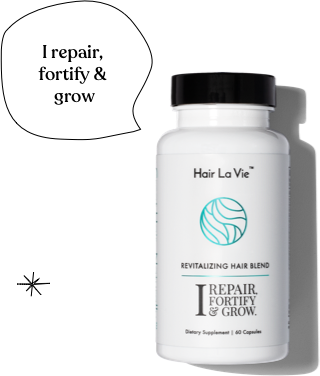 Take two (2) capsules daily. We recommending taking one capsule with breakfast and one with dinner.
60 capsules per bottle (30-day supply)

---
Hair La Vie Shampoo: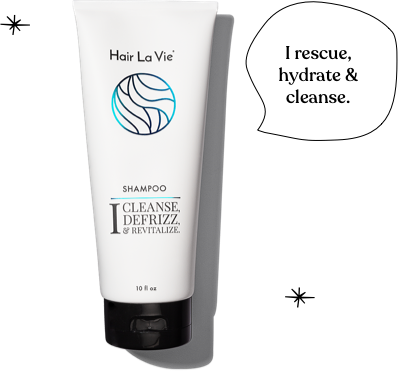 Hair La Vie Shampoo is a gentle salon cleanser AND a liquid hair vitamin in one that can be applied directly to your scalp for fast absorption.

Gentle cleansers remove buildup without stripping hair
Has natural proteins/amino acids for strength
No SLS, dyes or parabens and color safe
---
Restore Conditioner: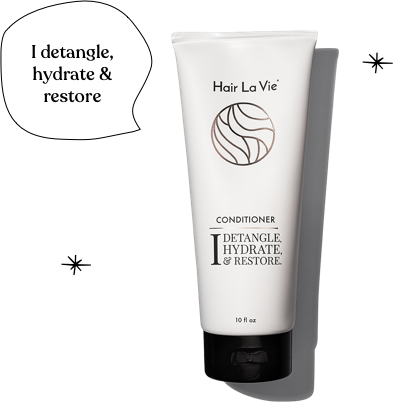 Hair La Vie Conditioner uses 21 different essential oils, vitamins and extracts to hydrate, detangle and restore your hair, giving it that healthy, glowing look.

21 ingredient blend (including 11 essential oils)
Uses gentle detangling agents
No SLS, dyes or parabens and color safe
---
Hair La Vie Mask | 8 oz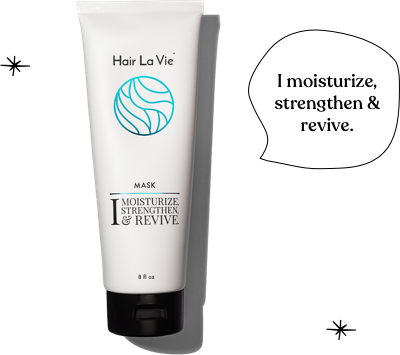 Hair La Vie Mask offers a deep salon conditioning at home, that will be your main line of defense against dry, lifeless hair.
11 vitamins & essential oils
Aids with frizz, boosts curls, softens
No parabens, phthalates, dyes or alcohol
---
Hair La Vie Serum: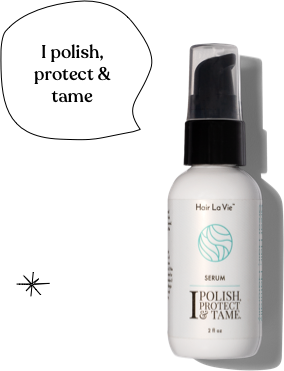 Hair La Vie Serum is your perfect on-the-go frizz-taming hair therapy. Replace heavy silicone-based styling products with a light oil that leaves your hair touchably soft.
7 essential oils & vitamins
Great replacement for harsh styling products
No crunchy after feel
---

Money Back Guarantee
Every Hair La Vie product comes with an unconditional 90-day 100% money-back guarantee.
Feel confident and secure buying from Hair La Vie. If you're not completely satisfied with your results, we will refund your order for up to 90 Days, no questions asked. You read that right, you have a full three months to return under our risk-free offer, and that goes for products that are opened or unopened, used or unused. Only one refund per household per year. For more details, please see our refund policy.
See The Results
Emily
"I Can Be The Best."
Featured Products

Name: Emily

Hair Type: 2A (Slightly wavy near the ends, with natural shine)

Nature: Tends to get frizzy easily, and split ends are an issue.

Issues: hair loss, dry scalp

Why are you #TeamLaVie? You feel the softness and you feel all that and when I dried my hair afterwards, it was like, wow. It wasn't weighted down, because when you have damaged hair you get all these products and they're kind of weighting you down.
Reviews
Write a Review
Adds Volume

I just started using this and so far I love it. I have fine hair and I'm always looking for a good shampoo that adds volume and doesn't dry out my hair. This shampoo does the job - leaves my hair feeling soft but not heavy like some shampoos. Can't wait to try the whole line :)

Love It!

Hair La Vie has saved my hair. After dying my hair so many times it's so dry and the vitamins make it feel so much softer and stronger.

It's bringing it back to life every time I wash. I use the serum before using heat and deep condition once a week.

Out With the Old In With Hair La Vie

I used to use the "other" brand. You know, the popular, celebrity endorsed one. So done with that after recent reports of women actually losing their hair. Yikes! So excited for Hair La Vie's Complete Collection!

Finally!

Finally, a shampoo and conditioner that makes my hair feel amazing all week long. Thank you Hair La Vie! So excited to try out the vitamins, serum and masque!

My hair is finally feeling shiny and healthy

I've tried so many other hair brands to revive my hair after a few at-home dye jobs that really damaged my roots. I started with the hair vitamins, then was impressed and added the shampoo and conditioner. I'm so thankful and happy I found them and can't wait to try the serum and masque!

My Everything

Wow, the revitalize shampoo and conditioner are everything. My hair never felt so clean before. My dandruff has cleared up so much and the two smell amazing. I've started using their entire line and am so impressed with my results.

Best Feeling Ever!

So this is what washing my hair is suppose to feel like. I started taking Hair La Vie vitamins two years ago and now with Revitalize I'm set to have the best hair for life. Can't wait to try the whole line!

I'll be giving this as a gift

I've done so much research on shampoos and conditioners. Literally nothing on the market compares to the quality and ingredients of Revitalize and Restore. And bonus, It can make your hair grow faster. I've tried the whole line and am so happy, can't wait to give this to my mom for her birthday!

My hair has never felt thicker

I am not sure if this helps your hair thicken but my hair is about 3x thicker and longer than before. Noticed an immediate difference after taking their vitamins and using their entire line. Very impressed.

Literally the Best

I started with the shampoo and conditioner and constantly rave about how great it is. It smells good, my hair is soft, my split ends have decreased and my scalp has stopped itching. Their vitamins and masque are a life saver and my hair has never felt better. So excited to try their serum!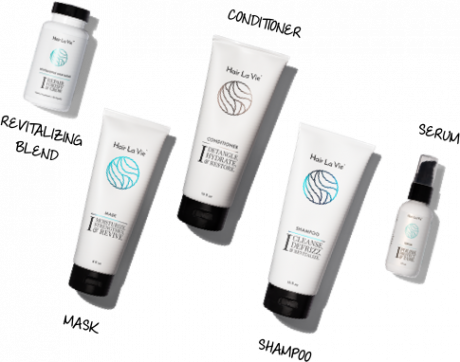 Your journey to a healthy hair transformation begins
Add To Cart