What's Inside
Revitalizing Blend | How to Use: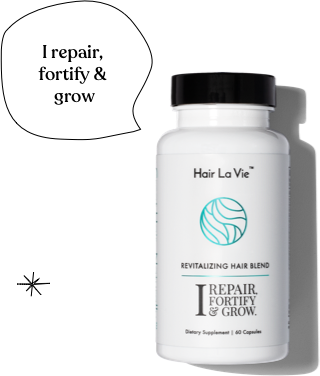 Take two (2) capsules daily. We recommending taking one capsule with breakfast and one with dinner.
60 capsules per bottle (30-day supply)

---
Hair La Vie Shampoo: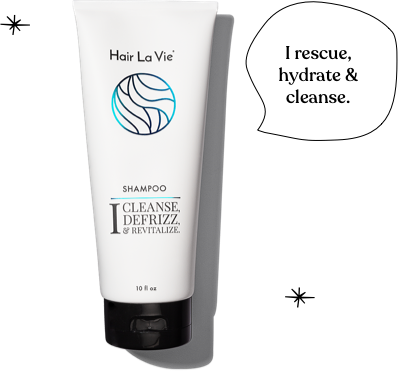 Hair La Vie Shampoo is a gentle salon cleanser AND a liquid hair vitamin in one that can be applied directly to your scalp for fast absorption.

Gentle cleansers remove buildup without stripping hair
Has natural proteins/amino acids for strength
No SLS, dyes or parabens and color safe
---
Restore Conditioner: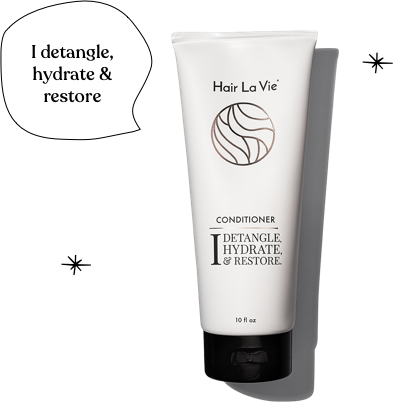 Hair La Vie Conditioner uses 21 different essential oils, vitamins and extracts to hydrate, detangle and restore your hair, giving it that healthy, glowing look.

21 ingredient blend (including 11 essential oils)
Uses gentle detangling agents
No SLS, dyes or parabens and color safe
---
Hair La Vie Mask | 8 oz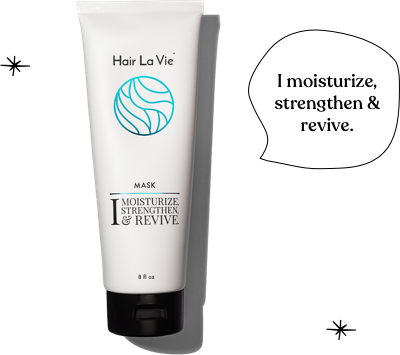 Hair La Vie Mask offers a deep salon conditioning at home, that will be your main line of defense against dry, lifeless hair.
11 vitamins & essential oils
Aids with frizz, boosts curls, softens
No parabens, phthalates, dyes or alcohol
---

Money Back Guarantee
Every Hair La Vie product comes with an unconditional 90-day 100% money-back guarantee.
Feel confident and secure buying from Hair La Vie. If you're not completely satisfied with your results, we will refund your order for up to 90 Days, no questions asked. You read that right, you have a full three months to return under our risk-free offer, and that goes for products that are opened or unopened, used or unused. Only one refund per household per year. For more details, please see our refund policy.
See The Results
Emily
"I Can Be The Best."
Featured Products

Name: Emily

Hair Type: 2A (Slightly wavy near the ends, with natural shine)

Nature: Tends to get frizzy easily, and split ends are an issue.

Issues: hair loss, dry scalp

Why are you #TeamLaVie? You feel the softness and you feel all that and when I dried my hair afterwards, it was like, wow. It wasn't weighted down, because when you have damaged hair you get all these products and they're kind of weighting you down.
Reviews
Write a Review
You actually see a difference

Started Hair La Vie back on April 19, 2018, been on the pills and shampoo/conditioner for 8 weeks now and have noticed new hair growth which is small short hairs growing strong. I still have loss of hair daily with shampooing and brushing but I assume that is from the old damaged hairs falling out. I would recommend this product to anyone wanting new hair growth. My new hairs are fuller and healthier looking. So right now it looks thicker closer to my head then my ends but in time they will grow out. I had bad damage from my last surgery the medication they had me on ruined my hair so I gave Hair La Vie a try and I believe it is working but like all things, continue to use for more then 6 months for a real noticeable difference. Best product so far!!! Thank you HLV :)

HAPPY

I lost a lot of hair by using WEN products. I don't know if I will ever recover the loss but I am very satisfied with your products.

Life-changing!

Last year I started to notice my hair rapidly thinning. I discovered Hair La Vie thru the internet and decided to try it as it is rated #1 in a product survey. I was amazed!! My hair looked and felt thicker and fuller with the 1st use of the hair care products. Once the vitamins kicked in (about 3 weeks) my hair was stronger and I noticed almost no hair in my brush or after shampooing!! Your product is amazing and I tell everyone about it. My daughter in law is using it now too! THANK YOU THANK YOU!!

Ready to go!

Just got my new hair la vie products and I'm ready for growth and thickness will do an update after my first bottle lets go hairlavie!!!

Excited to try this

I started taking hair vitamins in January 2017. Just bought the whole collection and I'm looking forward to my hair growth. :-)

It works!!

I read all the reviews on their vitamin before I purchased it. I was looking for one negative review and was not able to locate one. Now I know why I could not find any negative reviews. Hair La Vie really does work, my hair is shiny, and sheds less than ever before. I've only been taking these vitamins for 3 months and I can see that my hair is thicker than normal and it's grown about ½ inch. I will continue taking these vitamins forever! I recently tried the shampoo and conditioner, now I'm buying the whole collection! Try it for yourself and see the results!

Loving my hair

My hair has thinned out over the years. At 49 years old and with menopause & stress my hair began to fall out so much so i was scared to wash it. Through my search for something that works I have tried several vitamins and never saw results till I started to use Hai La Vie. I started HLV on 2/28/17 and with one month in i see a big difference in my hair. It's not falling out when i wash it ...it looks fuller it's so soft and manageable. Not sure if it grew any but im loving my hair. I have 2 more bottles to go im looking forward into seeing my results. Oh and my eyelashes are also looking a little fuller thats a plus

Excited

Happy to receive the strength collection today ready to see growth. My hair is at shoulder length I believe in hairlavie amen!

So happy I found this!!

So I have been taking this #hairlavie for almost 2 months now. I took out all extensions, so this is all me, and my hair has not felt and looked this good in ...... Possibly ever. It's finally growing again, I've always had a lot of hair, it's just really fine, but now it looks fuller, it feels awesome, I mean I NEVER push anything, but I gotta tell you, this stuff is doing something. I'm just trying to let it grow out right now, to see what will happen. I also just tried their shampoo for the first time. And mmaaannnnnn it's nice, just enough conditioning not to make it stick

Serious results

The fullnes, and thickness that I never had before taking your products is so obvious since I've started. Amazing products and so glad they have a collection now.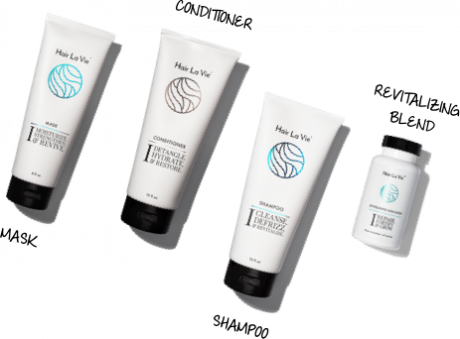 Your journey to a healthy hair transformation begins
Add To Cart